Cross Belt Sorter Conveyor
Cross Belt Sorter Conveyor
?>
Brand :BONRAY
Product origin :China
Delivery time :30 days after recieving advance payment
Extensive application environment: cross belt sorter can flexibly combine with the user's information system and sort by batch or destination; roller conveyor can also form a comprehensive sorting model of cross-interconnection and cross-warehouse operations.
Lightweight structure design, high sorting efficiency, low energy consumption and carbon reduction;
High-level module standardization to ensure fast and easy installation;
Cross belt sorter conveyor is easy to transform and expand production; almost unlimited flexible planning and layout, including the application of inclined rising or falling sections;
How Does A Cross Belt Sorter Conveyor Work?
Cross-belt Sorter is a kind of linear sorter, which is connected by the main drive belt conveyor and the many single unit carriers carrying the small belt conveyor. When the "carrier" moves to the specified sorting position , it turns the belt to complete the task of sorting and sending out the goods to the chutes. Because the main drive belt conveyor crosses the belt conveyor on the "carrier". So it is called "cross belt sorter conveyor."
Application areas: e-commerce, express delivery, clothing industry, books industry, etc.
Application: carton, packaging, mail, packaged food, envelope, clothing, etc.
Operation mode: controlled by WCS software to realize automatic network sorting.

Sorter System features:
Gentle action
Low sorting accuracy error rate
High processing capacity
Strong expandability
Simple structure
Energy saving
Low noise
Wide application range
Gentle sorting action;
Precise sorting;
High sorting processing capacity;
Suitable for most item sizes.
Low energy consumption. Low running power.
Modular design greatly reduces maintenance time and waiting time. The operating system is simple and secure.
Special traction device, the equipment runs extremely low noise.
Wide range of applications, relatively low requirements for sorting goods
Sortation System Structure:
The loop cross belt sorter mainly includes a gantry, a track, a carriage, a carrier and related auxiliary parts. It is suitable for large logistics sorting sites, with high sorting efficiency, single layer can reach 20,000 pieces / hour, double layer can reach 40,000 pieces/hour.
Cross Belt Sorter Operation Process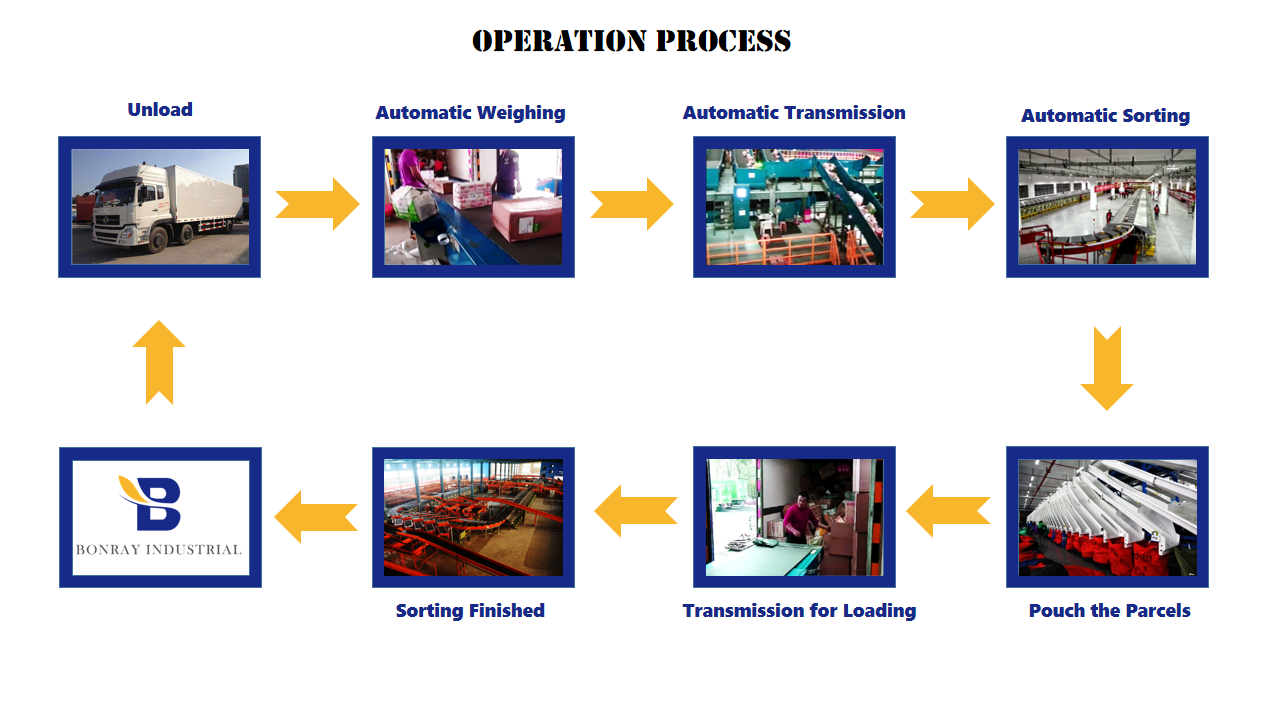 Sorter System Advantages:

The cross belt sorter has fast sorting speed and low error rate, and most of the standard small parcels can be automatically sorted on the line. Sorting goods are envelopes and documents, standard e-commerce packaging cartons, and more. The length is within 400MM, width 300MM, weight less than 30Kg.
Such sorted items account for more than 90% of the entire express delivery that needs to be sorted, so only about 10% of the oversized, overweight and some very heterogeneous packages are manually sorted!
This not only improves the efficiency of good sorting but also reduces labor costs. The horizontal cross-belt sorting machine has flexible routes, and can also use the turning machine to go up and down the slope.
Both the merging machine and the destination can be configured and optimized in various flexible ways to improve system performance. With an appropriate layout, only one system can establish multiple sorting areas. The horizontal cross belt sorter is completely suitable for work in confined areas. Two sorting machines with the same route can be installed in cascade to achieve double throughput.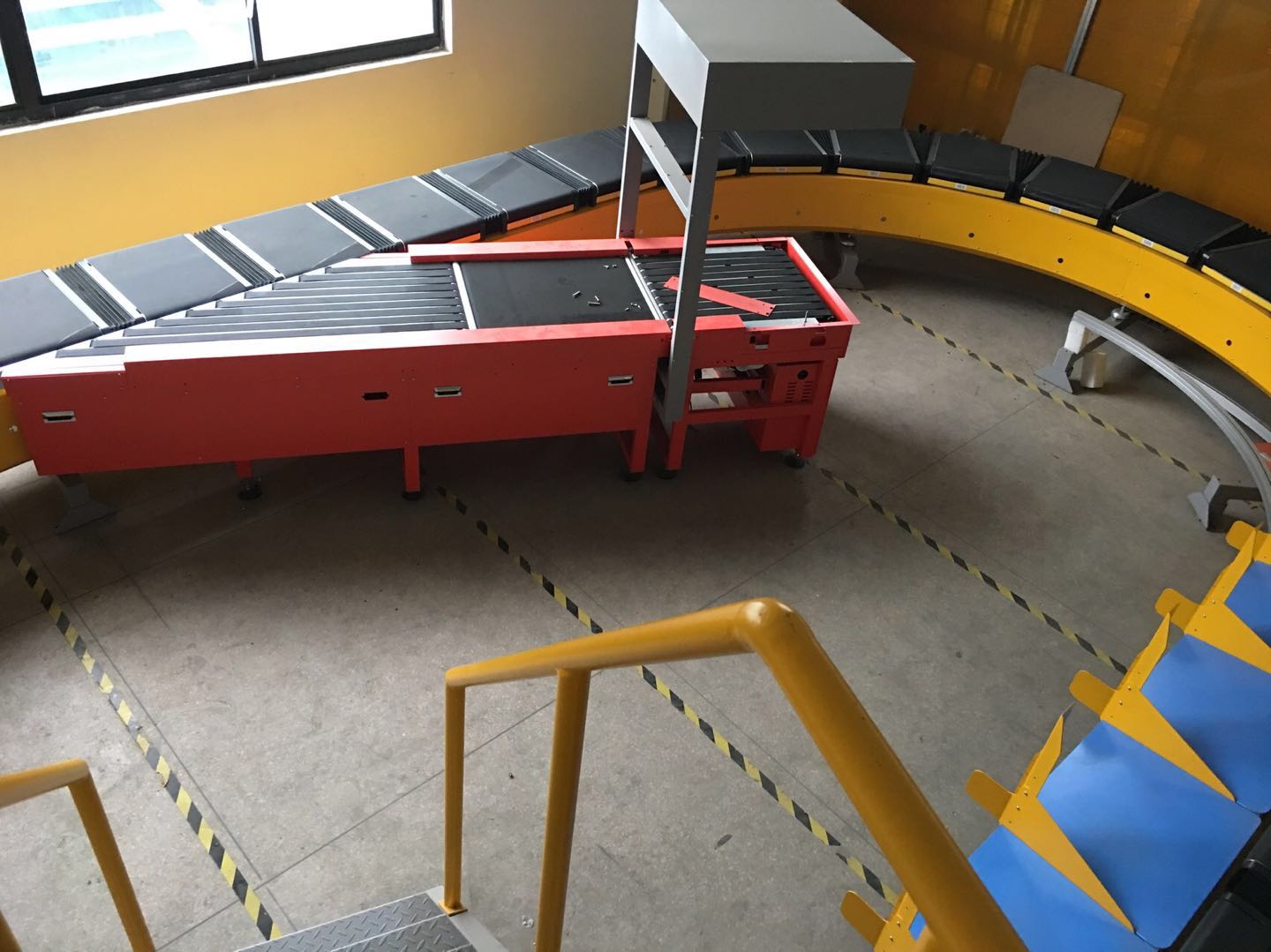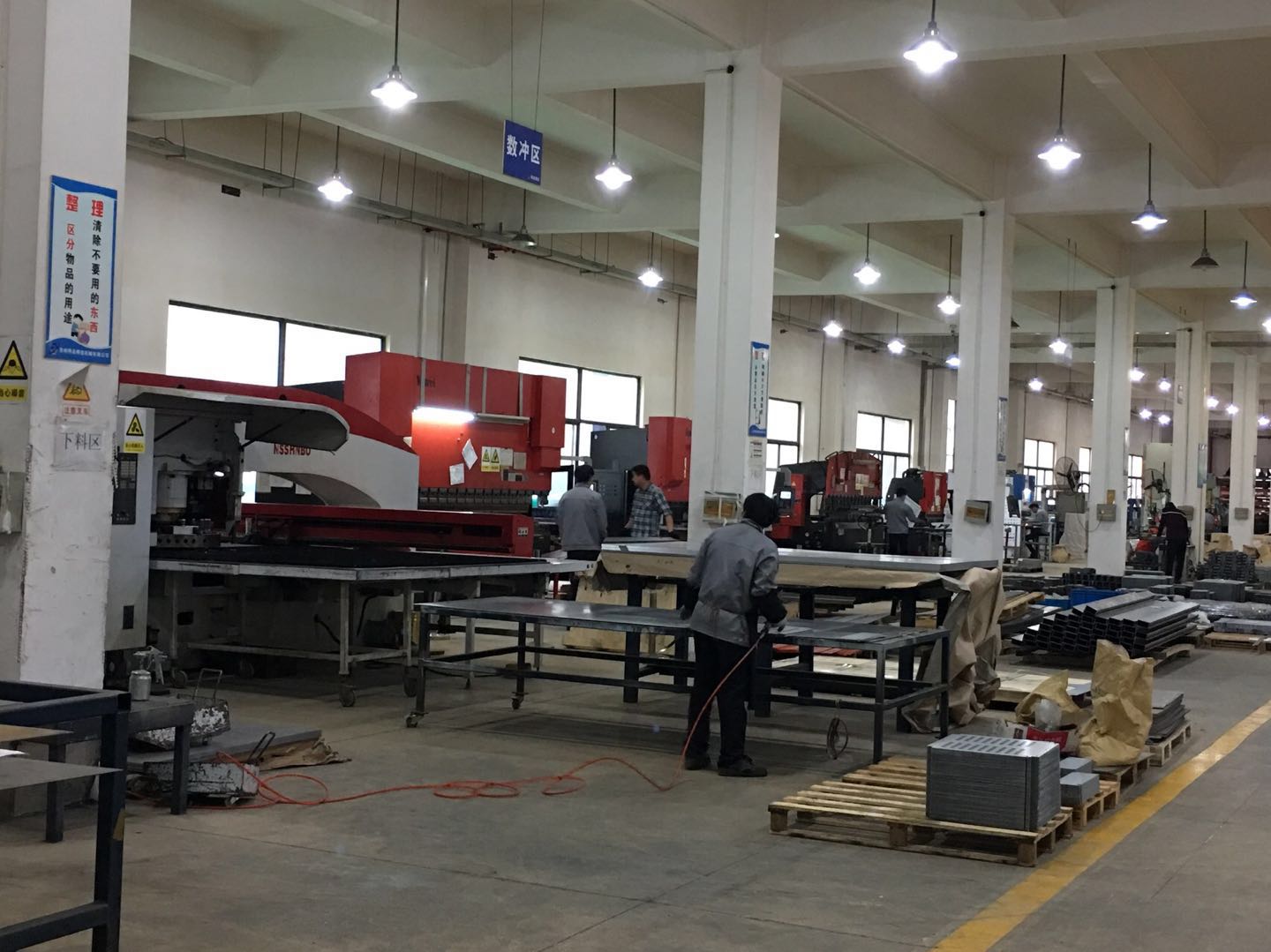 Cooperation with Falcon Autotech.

Loop Cross Belt Sorter Basic Parameters:
(1) Environmental conditions
Ambient temperature: -5 ℃ ~ + 40 ℃
Relative humidity: 35% ~ 95%
(2) Power supply
Rated voltage: three-phase AC380 (1 ± 10%) V and unidirectional AC220 (1 ± 10%) V
Frequency: 50 (1 ± 2%) Hz
(3) Package specifications
Package quality: 0.1kg ~ 15Kg
(4) Carrier: Customized, normal size 600x700mm, (center distance) load weight 15kg, pitch 600mm
(5) Maximum linear speed of sorter: 2.5 m / s
(6) Sorting capacity of the sorter: 15000-18000 PPH
(7) Sorting cargo weight 0.1-15kg
(8) Sorting error rate is less than five ten thousandths
(9) Breakage rate of sorting packages: ≤0.01%
(10) Noise: average noise ≤ 68dB, maximum noise source noise ≤ 70dB
(11) Overall spray appearance requirements:
a, Bottom can not be missed.
b. No peeling off;
c. No flow marks;
d. No obvious particles;
e. No color difference;
High-speed Circular Cross Belt Sorting System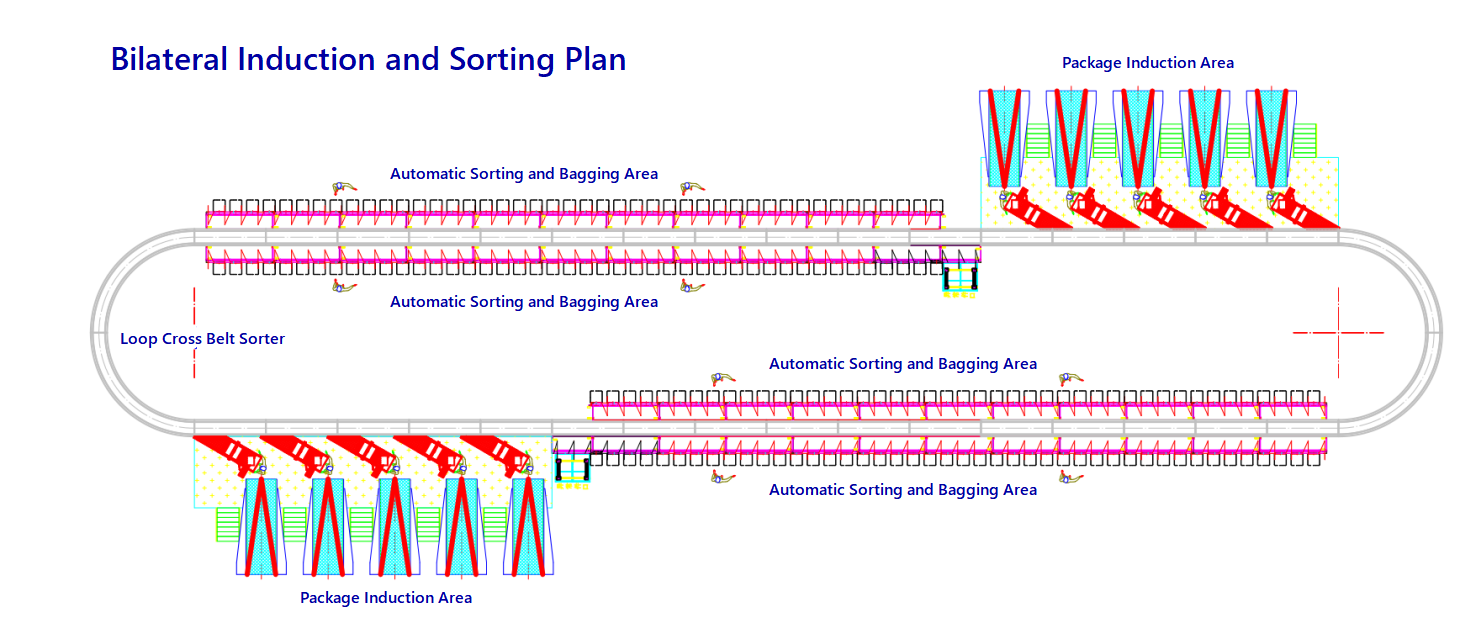 Intelligent Express High-Speed Sorting Type:
Application form: Super large loop, the number of sorting carriers can be determined according to the amount of sorting and the number of chutes.
Main line running speed: 1.5 ---- 2m / s
Number of sorting carriers: determined based on actual demand efficiency
Number of parcel inductions (parcel feed lines): determined according to actual demand efficiency
Perimeter of circular sorting line: determined according to actual demand efficiency and plant layout
Processing capacity: 15000 ----- 21000 pieces / hour
Package feeding to cross belt sorter method: automatically inducted diagonally from two zones.
Scanning method: manual scanning (because there are many irregular shapes in express packages, and the single-face barcodes are randomly attached, which results in not full-automatic barcode scanning, so all parcel sorting induction lines are manually scanned and placed ----- manual scanning can also easily reach one second per piece of efficiency.)
System requirements: The client needs to have an ERP or WMS system, and a communication protocol that can open and call interfaces to facilitate the data exchange of our WCS system.
Barcode requirements for customers: The customer's information must be pre-posted: ------ electronic informatization, and electronic coupons need to be vigorously promoted; for some retail customers, the information can be entered in time after receiving; (if it cannot be standardized and unified) , Then you can only use the manual button to select the shipping port)
Cross Belt Sorter Conveyor Management System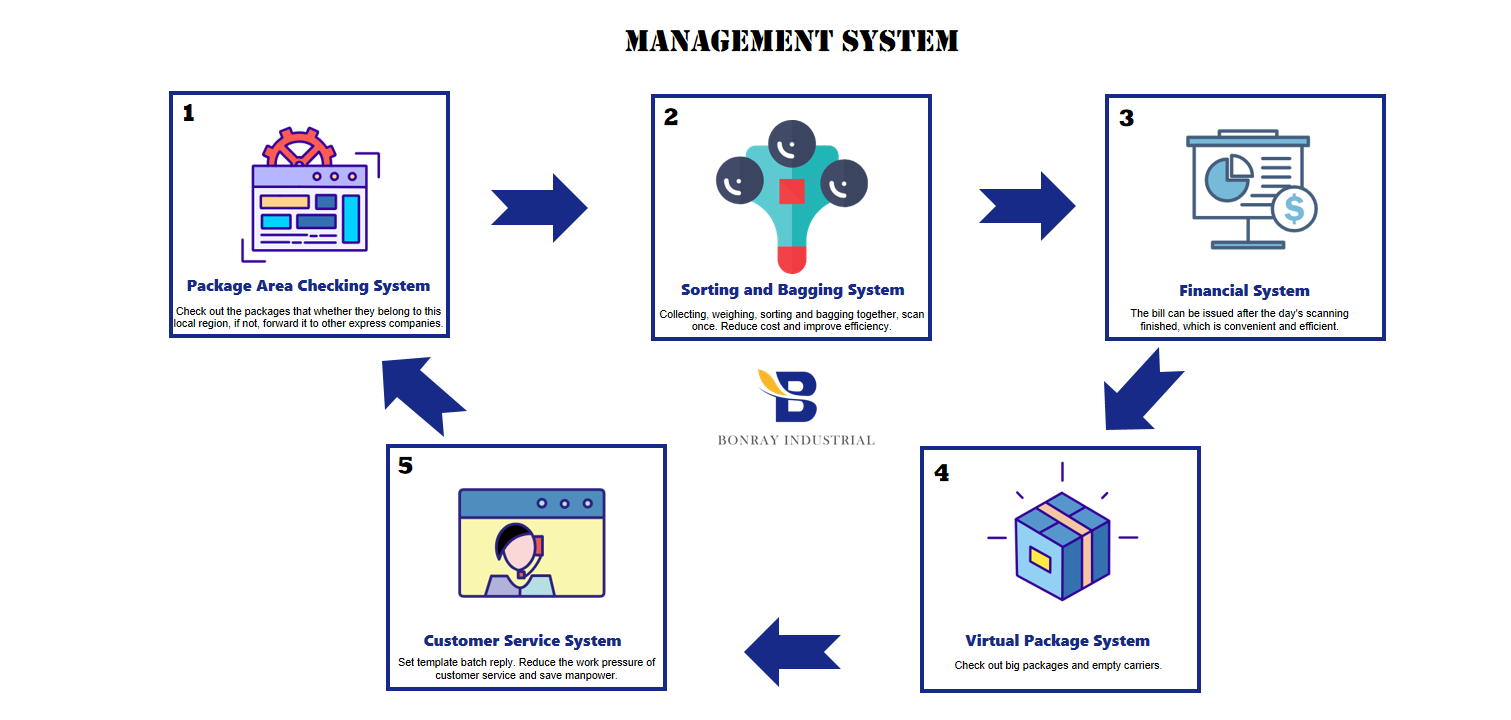 Raleted Procusts--Cross-belt Sorting System
Get the latest price? We'll respond as soon as possible(within 12 hours)