Cross-belt sorting system
2022-04-29 10:38:33
The cross-belt sorting system is connected by a main drive belt conveyor and a trolley (referred to as "trolley") carrying a small belt conveyor. When the "trolley" moves to the specified sorting position, it rotates Belt to complete the task of sorting and sending out the goods. Because the main drive belt conveyor crosses the belt conveyor on the "trolley".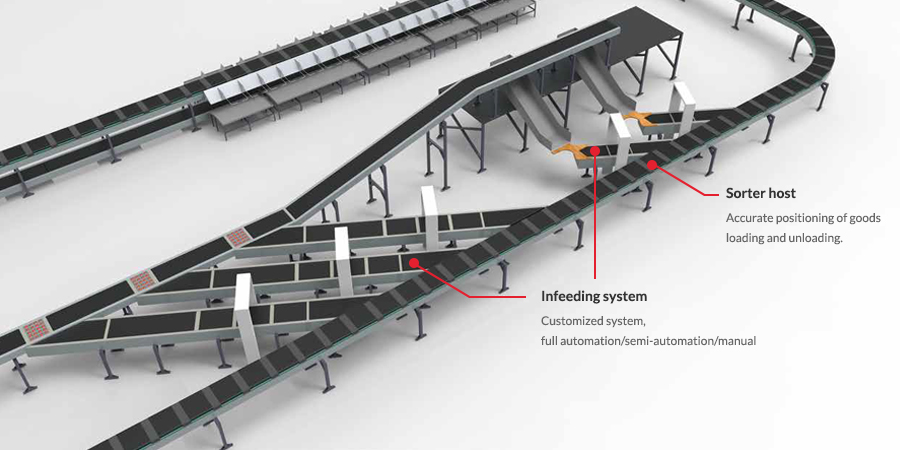 ▼
Technical Features
The cross-belt sorter uses a linear motor and other power to drive the end-to-end trolley queue to move at high speed along the circular track. Pieces are introduced into the sorter trolley through the semi-automatic or fully automatic introduction table, the code is read by the scanner and the corresponding address is found in the background system. When the trolley carrying the goods runs to the designated sorting port, the trolley belt rotates smoothly and smoothly to sort the shipment.
The main technical parameters of the cross-belt sorting system:
1. The sorting speed can reach 8000-27000 pieces per hour, and the number of sorting trolleys can be increased according to the specific site planning.
2. The running speed of the trolley can reach 1-2 meters per second
3. The load of the trolley can reach 30--40 kg
▼
System advantage
(1) The trolley is directly driven by a high-torque brushless DC drum, which is easy to install and maintain, and has high reliability; the chassis of the trolley is finished with cast aluminum, which has high strength and simple installation;
(2) The introduction table adopts the integrated design of the overall frame, and is driven by a variable frequency integrated motor; the pre-commissioning is about to be completed in the factory, so the on-site installation is extremely convenient and the installation period is short;
(3) Fully adopts the control system architecture based on industrial Ethernet, has rich diagnostic functions, and supports remote maintenance and diagnosis of all core equipment;
(4) All parts of the sorting machine, such as the drive of the whole machine, are designed with redundancy, which has extremely high reliability and scalability;
(5) Excellent performance, core indicators such as sorting efficiency, error rate, and code reading rate are comparable to imported equipment.
Applicable scene
It is suitable for large and medium-sized sorting centers that require extremely high sorting efficiency for small commodities and have many sorting directions in industries such as e-commerce, food, cosmetics, clothing, books, express delivery, and 3PL.